Referred to as a mini split air conditioner. Composed of an outdoor condenser
that pumps cold air into a very attractive wall or ceiling mounted air handler.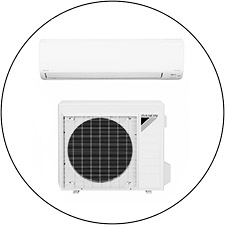 Daikin
learn more
Daikin is the World's No. 1 air conditioning company. Daikin is a leading innovator and worldwide provider of advanced, high-quality air conditioning and heating solutions for residential, commercial and industrial applications. With more than 90 years of operation, Daikin has sold millions of systems throughout 140 countries. But what makes us great isn't just our HVAC systems. It's our personal service, commitment to quality and technological innovations that allow us to be a leading HVAC manufacturer.
brochure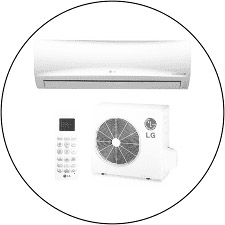 LG
learn more
LG Air Conditioning Technologies offers efficient and innovative solutions for residential and light commercial heating and cooling needs. With an expansive offering of both ducted and duct-free options including: the exclusive picture frame Art Cool™ Gallery, the superior heating performance of LGRED° and the industry's first single-phase 5-ton VRF heat recovery unit, LG delivers on the quality, performance and style that consumers expect.
brochure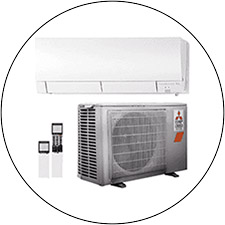 Mistubishi
learn more
Whether you have a single uncomfortable room, you're renovating your entire house, or you're building a home from scratch, Mitsubishi Electric has a Zoned Comfort Solution® that fits your unique needs. Because our systems focus on individual living spaces rather than treating every room the same, it's more customizable, more energy efficient and easier to install.
brochure